On November 7, 8, 9, under the joint supervision of the sub-prefect of the district of Mengong and the district inspector of basic education, were held in the premises of the bilingual elementary school of Mengong and then in the room of the acts of the town hall of Mengong, pedagogical days dedicated to the directors of schools. The program included several presentations, including one on the impact of donations made by The Belinga Foundation on education in the district, presented by Claye Atangana, head of the EDUCATION axis at The Belinga Foundation.
A more than positive impact
After having once again underlined the importance that The Belinga Foundation attaches to EDUCATION which it has made one of the five pillars of its action program, Claye Atangana pointed out the links that exist between the global vision of The Belinga Foundation in terms of EDUCATION and the new orientations given to EDUCATION by the State of Cameroon. He concluded by stressing once again the need for school principals to ensure optimal use of donations, while giving them advice on the preparation of their applications.
This presentation, which was also a bit of an evaluation of the strategy used so far by The Belinga Foundation, comes at a crucial moment for the foundation and the entire educational community of the district. Indeed, in order to further improve the results of the actions carried out in the field, The Belinga Foundation has decided to move from an overly elitist approach (and therefore a bit distant from the grassroots, the real target of the Foundation's action) to an approach that allows all components of the educational community to get involved and play their role fully.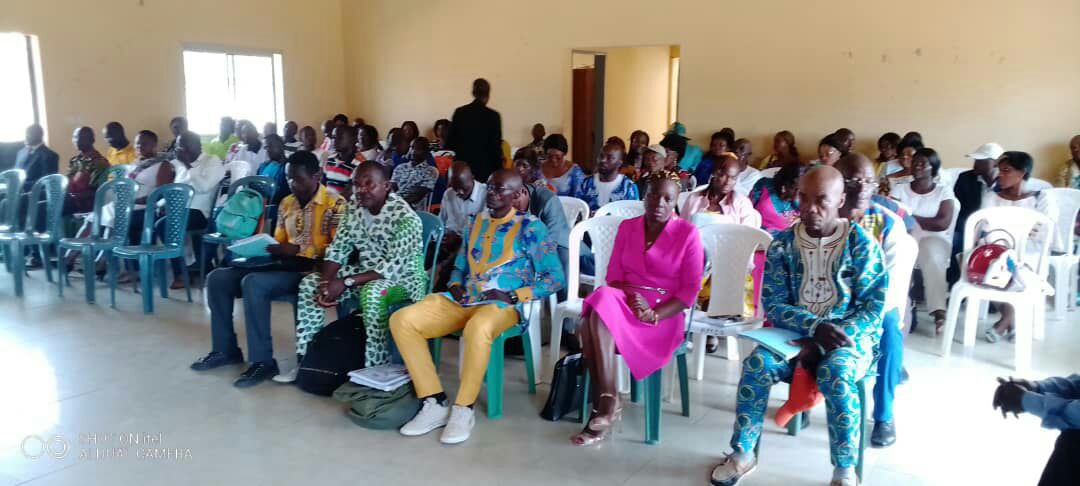 A new strategy that involves the village communities even more for optimal results.
The Belinga Foundation's new guideline for EDUCATION is to involve the grassroots communities as much as possible in the learning process, to allow parents and other stakeholders who often look at school from afar to take ownership of the school and to play their role efficiently. This vision is in line with the process of decentralization and the handing over of schools to communities recently initiated by the State of Cameroon. The foundation now intends to organize monthly meetings in villages so that together solutions can be found to improve the quality of learning.
A diploma of thanks for The Belinga Foundation.
Conscious of the great contribution of The Belinga Foundation and the enormous impact that this foundation is having on the improvement of the quality and even the relevance of education in our community, all the school directors awarded the Foundation a diploma of thanks received from the hands of the Sub-Prefect by Claye Atangana, head of the EDUCATION axis at The Belinga Foundation.